Kapalua Pineapple Rum Grit Cakes w/Shrimp
Posted by
06/25/2018
0 Comment(s)
Recipes
,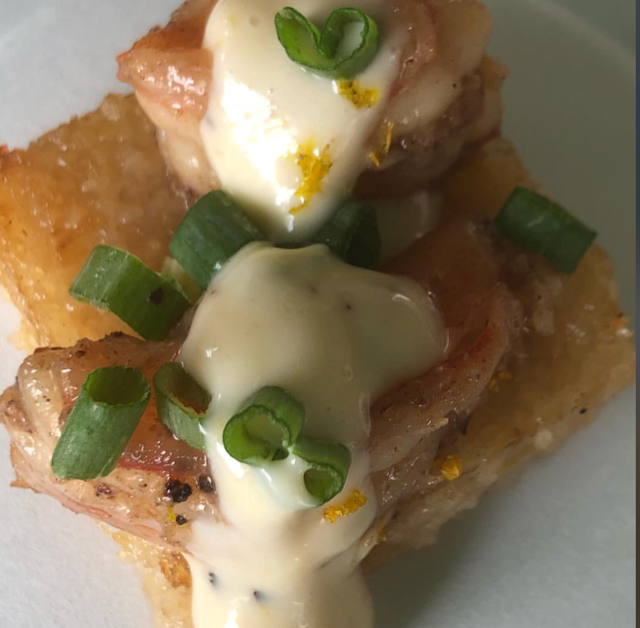 Grits
Part 1
2tbls Butter
1 sm Onion Diced
1 clove Garlic, minced
2 Cups Chicken Broth
1 Cup H2O
1 Cup Quick Grits
Part 2
1 ½ tbls Lane's Kapalau Rub
¼ C Pineapple Juice
½ C Crushed Pineapple
2 tbls Dark Rum
½ tsp Cumen
1. Melt Butter. Saute onion until soft and translucent. Add garlic. Saute for one more minute.
2. Add chicken broth & H2O. Bring to a simmer then slowly add grits, stirring constantly intil mixed and no lumps. Cook until done (5-7 min)
3. When grits are done, add all part 2 ingredients. Cook for a few more minutes. Pour cooked grits onto parkment lined cookie sheets. Cool in the fridge for 3 hrs. to over night. Once firm, slice into squares, or use cutter. Fry in 350 degree oil until browned on both sides

Shrimp
½ lb Larg shrimp cut in 1/3rds
¼ cup Wassis Vintage Sunshine Rub
4 large cloves of garlic chopped
2 tbsp lemon juice
2 Tbsp butter
1 Tbsp oil
In a hot skillet melt butter and add oil, when hot add shrimp, rub and Garlic, sauté until shrimp almost done and add lemon juice. Remov when shrimp are opaque all the way through.
Sauce,
Aioli
1 cup Mayonnaise
Lemon juice to taste
¼ cup Wassis Vintage Sunshine rub
¼ cup RunamoK Cinnamon Vanilla syrup
Zest of ½ orange
Combine all ingredient and refrigerate for about ½ hour to allow all the flavors to develop.