Sunset Tango Black White Beans & Pork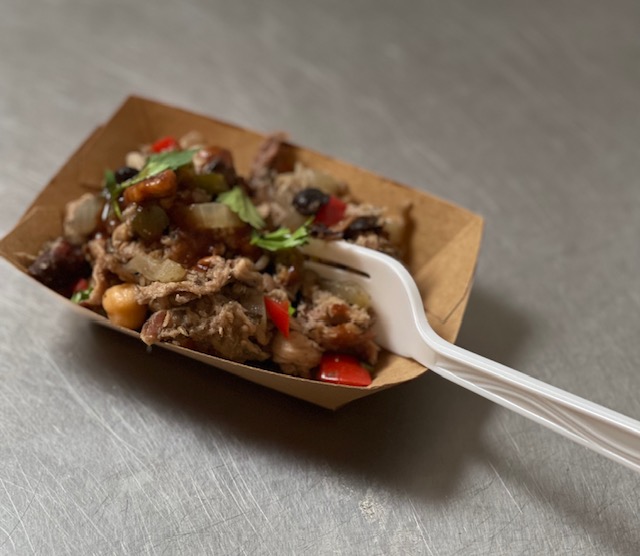 Beans Ingredients
Olive oil
1 small yellow onion
½ cup diced small green pepper
½ cup diced small red pepper
1 diced jalapeno pepper seeds and ribs removed
¼ cup chopped cilantro
3 minced garlic cloves
1 teaspoon dried oregano
1-2 tablespoons of Wassi's Sunset Tango rub
2 Bay leaves
1 tablespoon fresh lime juice
15oz prepared black beans half drained
15oz prepared chick peas fully drained
1-2 cups of broth (chicken, beef, or veggie)
1lb Pulled pork (fresh or left over)
Method
Set up Big Green Egg for direct grilling and stabilize at about 350F (also can set up at 350F indirect- more control but more charcoal burn). Place cast-iron skillet or Dutch oven on egg and let it get to temperature. Add olive oil to skillet and allow it to get hot, then add onion, green and red pepper, and jalapeno and sauté until veggies begin to soften. Then add cilantro, garlic, oregano, Wassi's Tango Sunset, and bay leaves and cook for a few minutes until tender and fragrant. Dump in black beans, chick peas, lime juice and stir everything together taking care not to smash up the beans too much. Add broth to the mix to keep moist and allow the beans to soak up a bit, add pork and more broth and mix all together. Cover the beans and allow to cook together for 10 to 20 minutes stirring occasionally and adding broth as needed. Add more Sunset Tango if needed. Beans are done!!
IDEAS: Serve beans as a side or over rice for a full meal. Serve with additional lime wedges or sliced avocado. Use as a topping for loaded nachos.
Pulled Pork (to make fresh)
One 5-12lb pork shoulder (Boston butt)
Wassi's Vintage Sunshine rub
Method (pork) RiverwayMike Style
To make pulled pork. Set up Big Green Egg with a full load of Big Green Egg Charcoal for indirect cooking and stabilize at about 250F, add smoking wood chunks if smoke flavor is desired (I prefer lighter smoking fruit wood for this, apple, cherry…) place a tin of water below the grate on the Conveggtor to catch drippings and avoid the "burnt grease smoke" taste on your pork. Season the pork butt very generously on all sides with Wassi's Vintage Sunshine rub and place pork on the egg once the temperature is stable and smoke is thin and blue, with the added smoking wood, Conveggtor, and drip pan. Allow pork to slow cook to an internal temperature of about 200F when temp probe is inserted or probe goes in with almost no resistance. This will take a while so plan ahead. The smaller sized pork butts will take 4 to 7 hours and the larger cuts 8-13. The cook time varies with each individual piece of meat, fat to muscle ratio plays a part, as does the density of the meat, so every cut is a little different. Once the pork is done, remove and wrap tightly in foil and place inside a towel or blanket lined cooler to rest for a minimum of 30 minutes, meat will continue to cook. If you have a well-insulated cooler (Yeti type) you can safely allow pork to rest up to 6 hours if you don't open cooler. This long rest period allows you to plan and prep the rest of your meal, entertain guest, and most importantly serve food at the designated time! There is nothing worse than standing around with hungry guests waiting for the pork to get done. When ready to pull, remove pork from lined cooler and open foil packed pork over a large bowl or pot catching all the drippings. I like to add a little more rub to the pork before I pull to kick it up. To shred or pull the pork I like to do it by hand because it can be shredded, pulled, and twisted to fluff up to make more light and airy, also you can pick out any large pieces of fat, gristle, or collagen. PRO TIP- I always wear a thin cheap cotton glove insert covered by a Nitrile glove do this to keep from burning my hands as the pork is still very hot, this will allow you to stay in there and get that pork nice and fluffy. Now it's done, you can eat it, freeze it, bag it, or add it to the next phase of your meal. It's always good to have a few vacuum sealed bags in your freezer for quick meal prep. Enjoy!!