Cooking Guide for Filet Mignon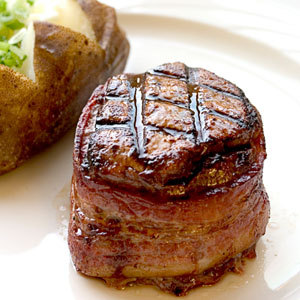 Preparation:
Bacon-wrapped Filets
Products included in this recipe:
Thaw* product on a dish in the refrigerator.
SEAR & ROAST
Preheat oven to 400°F. Season filets with salt and pepper.
In skillet, heat 2 teaspoon olive oil on medium heat until almost smoking. Sear filets 1 minute on each side. Then turn filet on the bacon side and roll it in hot pan for a minute more.
Roast in oven 4-6 minutes each side for medium rare. Adjust cooking time for desired doneness.
GRILL
Heat grill to medium high.
Lightly brush filet with olive oil and season with salt and pepper.
Grill 6-8 minutes on each side for medium rare.
FOR BEST RESULTS:
Remove thawed product from the refrigerator 30 minutes before cooking.
Let rest for 5 minutes before serving.